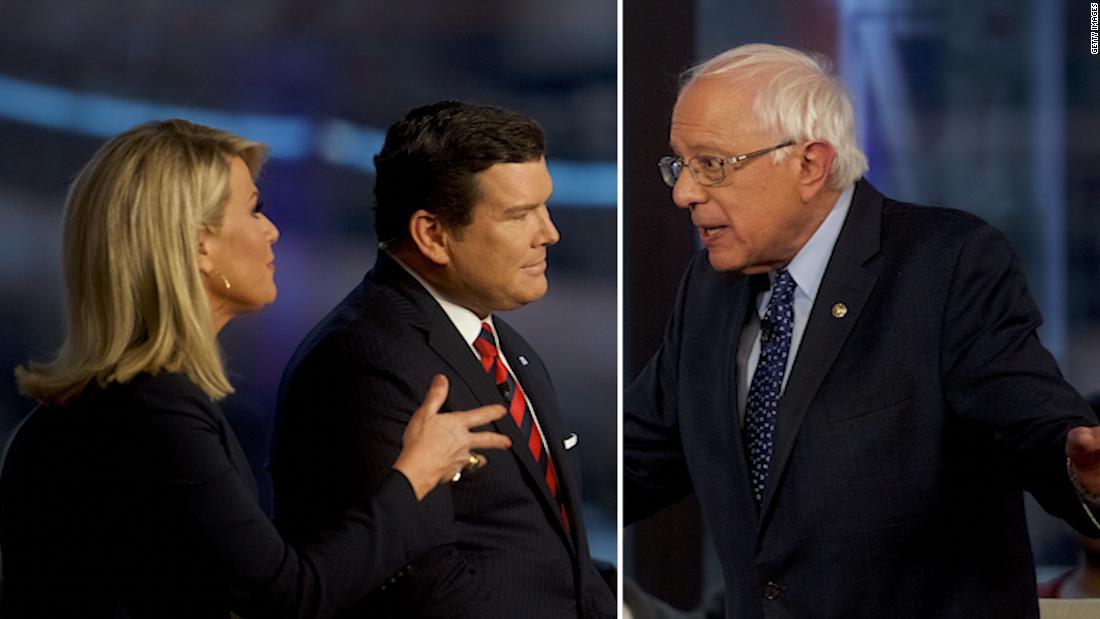 "F— the wall!" yelled another man walking in the opposite direction. He then approached a large group of Trump supporters and engaged them in the same way. A few of them, wearing Trump hats and waving Trump campaign signs, mocked him right back.
The scene was evidence of what's at stake here in this suburb 70 miles northwest of Philadelphia. Sanders was
showing up on enemy airwaves
, trying to reach a critical sub-set of voters — middle-class, mostly white suburbanites in Pennsylvania, many of whom likely watch Fox News. Trump supporters, meanwhile, had gathered outside as a reminder that, to many people, this is still Trump country.
The politically split Lehigh Valley is in many ways the crucial battleground district of a crucial battleground state. The President eked out a win here in 2016 on his way to carrying Pennsylvania, making him the first Republican presidential candidate to win the Keystone State since George H.W. Bush in 1988. Trump did so in large part by appealing to the type of working-class suburban voters found in Bethlehem and its bigger twin city across the Lehigh River, Allentown.
While Republicans have won House and Senate elections in Lehigh Valley in recent years, the tide has turned blue recently. Moderate Democrat Susan Wild won the US House seat here in 2018, and Democratic Sen. Bob Casey dominated here in his reelection bid.
To beat Trump in 2020, the Democratic candidate, whether it's Sanders or someone else, will need to do a better job of appealing to the concerns of suburban swing voters in this part of Pennsylvania. That means talking about kitchen-table issues like education and health care and improving the infrastructure of what's become a growing hub in the Mid-Atlantic.
Whichever party's candidate figures out how to speak to those concerns won't just win voters in the Valley — they could likely win Pennsylvania and the presidency, too.
"The Lehigh Valley is a bellwether," says Charlie Dent, the moderate Republican who represented much of the area in Congress from 2005 to 2018, and who is now a CNN contributor. "If Trump wins here, he wins the state of Pennsylvania."
He added, "If he loses here, it's not a good sign for him with similar kinds of voters in different parts of the country."
Middle-class battleground
The Lehigh Valley is the definition of a transitional community. It's neither rich nor poor, not as well-off as the Philadelphia suburbs but not as depressed as Pennsylvania coal country.
The region has a long history of industrial development, from its iron and concrete industries in the 19th century to the growth of Bethlehem Steel into a symbol of American industrial might. But the overall decline of heavy industry in the last half-century has forced the region to modernize.
Unlike some other areas in America's Rust Belt, the Valley has been relatively quick to bounce back. Its unemployment rate, at 4.4% is roughly in line with that of the rest of the state and slightly above the national average of 4%.
Situated between Philadelphia and New York and bisected by Interstate 78, the region has become a commercial hub, with warehouses and distribution centers for big companies like Walmart and Amazon. The lower cost of living has been a magnet for younger people looking to escape more expensive cities. What might have been the hollowed-out industrial shell that Billy Joel sang about in his blue-collar anthem "Allentown" is now a humming middle-class oasis.
It's these places of transition — between the rural and the urban, between the old economy and the new — that are the key to both parties' success in 2020. The problems and concerns are those of a middle-class in good but still uncertain times.
"I think there's just a general stress," says Dent. "People feel like they're working more and getting less. They're just dealing with the struggles of life. Health care costs are high, tuition is what it is, and I think it's just stressful."
There's a cultural tension too, as the makeup of the Lehigh Valley changes with migration. According to a US Census Bureau estimate, more than 60% of the region's new residents were immigrants from foreign countries. While the rural parts of the region remain culturally conservative, and staunchly aligned with the GOP, the more densely populated areas closer to Allentown and Bethlehem are growing friendlier to moderate Democrats as more families from the New York and Philadelphia move in.
Other than the rising cost of living, many in the Valley say the bigger economic problems are good ones to have: lots of job openings but without enough skilled workers to fill them. Those necessary skills in the logistics, health care, and biotech industries growing in the region including everything from technological savvy to familiarity with intricate systems like medical codes. And people here say better funding and accountability for schools and training programs could be a part of closing the skills gap.
For the most part, however, the booming economy is being felt in the Lehigh Valley, and the current administration is reaping the benefits. "I'm a born-again Trump guy," says Frank Facchiano, the COO of the Lehigh Valley Regional Chamber of Commerce. Facchiano says the tax bill,
passed in 2017
by a Republican-led Congress and signed by Trump, has been a good thing for business as well as families and individuals.
It's hard for Sal Panto, the Democratic mayor of Easton, to disagree. "I think the policies are still good," he said. He worries, too, that his own party could be failing to put up the right kind of challenger to Trump. "Bernie Sanders is so far left of our party," Panto said of the current Democratic frontrunner.
If the economy is doing well and the Democrats are turning too far left, why isn't the Valley, and therefore Pennsylvania and reelection, a lock for Trump? "The area has gotten more anti-Trump, because of his antics," says Panto.
Dent agreed. "Whether you like Trump or not, I think there's a lot of concern about his behavior," he said. He noted that Wild, his Democratic successor, spent little time in her successful campaign focused on going after Trump in particular. Panto said there's a benefit for his party in letting the President damage himself.
"The more he is out in public, the better it is for Democrats," Panto said.
Integrity and competence
Pennsylvania's top elected officials are watching the Lehigh Valley closely. Immediately downstairs from the Sanders town hall on Monday, the Chamber of Commerce was holding its annual dinner honoring local mayors and municipal governments. The guest of honor was Pennsylvania's Democratic governor, Tom Wolf, who took part in a Q&A.
"A lot of people are going to come through Pennsylvania," Wolf said, when asked about the 2020 presidential election. "I'm not sure what we're going to ultimately decide." Perhaps recognizing the mixed political audience, Wolf avoided saying he would support the eventual Democratic nominee and spoke only in broad terms about what he expected Pennsylvania voters, including those in the Valley, would seek in a candidate.
"I think people are looking for integrity, I think they're looking for competence, and if they can see those two things, I believe we're going to give any candidate a pretty wide latitude on policies," Wolf said. The audience of business and municipal leaders applauded heartily.


- https://www.cnn.com/politics/index.html
Like
Thanks!
You've already liked this
No comments